LOOKING TO AVOID US-CHINA TARIFFS?
OUR GLOBAL NETWORK PROVIDES VIABLE ALTERNATIVES AND COMPREHENSIVE SUPPLY CHAIN MANAGEMENT
SOLUTIONS!
EDS International has an extensive global network and expertise in Asia, Europe and the Americas. We can find and assess your ideal manufacturer, support your production transition or provide scalable, end-to-end supply chain solutions. Read more about the countries where we provide these solutions below.
Country overview :
With its strategic location close to such trading partners as China, Pakistan, and Bangladesh, India exported US$323.1 billion worth of goods to the international market in 2018. With a population of 1.3 billion that converts to roughly $250 for every citizen in the country. That numbers are saying a lot compared to $1,746 per person for China and $2,544 per person for Vietnam.
The destinations for Indian exports are Asia (49.3%), Europe (19.3%), North America (18%), Africa (8.3%), and Latin America (2.9%).
The Commerce Ministry has conducted a study regarding the lingering US-China trade war and the opportunities it brings to the Indian economy. It has been found that there are more than 350 products, including granite and chemicals, which can enhance exports from India. The study was also aimed at determining and classifying the products that can give a boost to India's exports to the US and China. One of the conclusions made as a result of the study is that 150 local products, among them chemicals, diesel and X-ray tubes, show considerable potential for substituting US shipments to China. At the same time, there are 203 products of Indian origin, including graphite electrodes and rubber that can replace Chinese exports to the US.
India's top 10 exports (2018):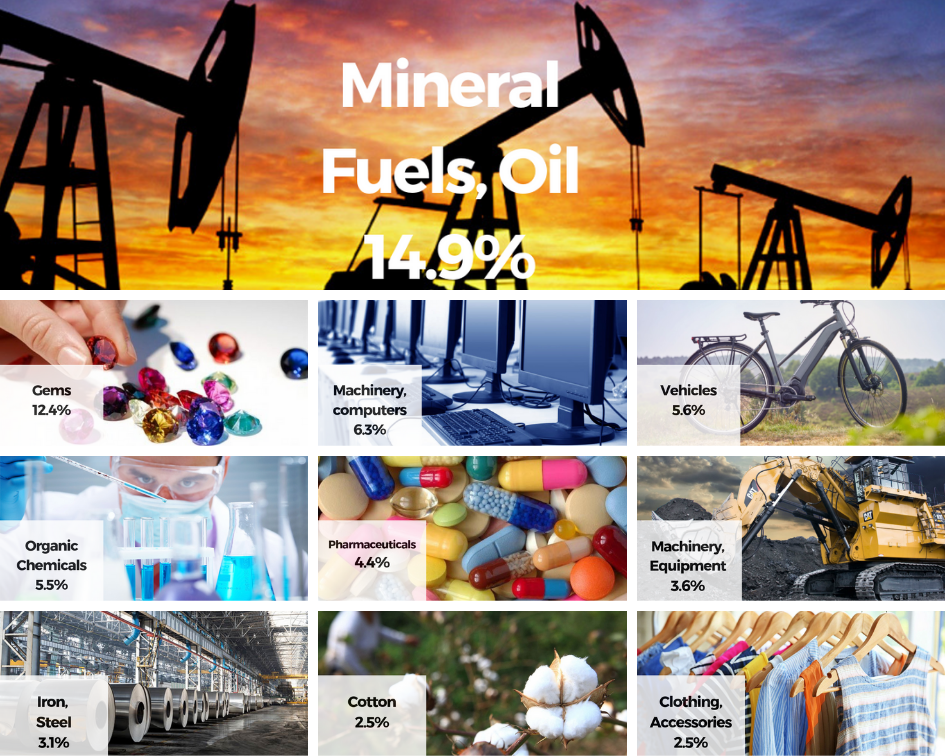 Mineral fuels including oil 

– 

$48.3 billion (14.9% of total exports)

Gems, precious metals

 – 

$40.1 billion (12.4%)

Machinery including computers

 – 

$20.4 billion (6.3%)

Vehicles

 – 

$18.2 billion (5.6%)

Organic chemicals

 – 

$17.7 billion (5.5%)

Pharmaceuticals

 – 

$14.3 billion (4.4%)

Electrical machinery, equipment

 – 

$11.8 billion (3.6%)

Iron, steel

 – 

$10 billion (3.1%)

Cotton

 – 

$8.1 billion (2.5%)

Clothing, accessories (not knit or crochet)

 – 

$8.1 billion (2.5%)
*data from www.mospi.gov.in/ (Ministry of Statistics & Programme Implementation, Government of India)
Advantages of buying from India:
India offers a viable alternative to China for a variety of product categories, which is why currently hundreds of American companies are contemplating moving their supply chain there. This seems a promising option given the combination of India's high- and low-skilled labor as well as the scope for sales a the market that has a substantial capacity. A large proportion of the local population lives below the poverty line, but incomes are on the rise and there is a wide array of well-educated graduates in the country. With Prime Minister Modi recently re-elected in another landslide victory, the "Make in India" campaign will continue to gather momentum and offer the interested companies various incentives to manufacture their products in the world's largest democracy. Another major plus for India is its widespread adoption and usage of the English language, especially vs. countries such as China and Vietnam.
It is no secret that India's economy is one of the world's fastest growing economies. In the recent years the Indian government has been implementing a number of reforms enabling continuous economic growth in the country. Seeking to improve external shipments as part of their development program, the Indian authorities are giving support to the companies involved in export trade. The main purpose of the provided benefits is to streamline the export process, eliminating the existing bottlenecks. The reforms include economic liberalization and social-democratic changes. In the 1990s, after the launch of the liberalization plan, open market economic policies have been pursued. The GDP and the standard of living, among other economic indicators, rose noticeably in the country thanks to foreign investments increasing in a number of sectors. Besides, more action has been taken to add flexibility to business and get rid of unnecessary bureaucracy.
The policies have brought about a rise in export shipments while also buoying optimism among the market players. The Indian government is additionally making progress with many other measures to grow the country's export sector.