LOOKING TO AVOID US-CHINA TARIFFS?
OUR GLOBAL NETWORK PROVIDES VIABLE ALTERNATIVES AND COMPREHENSIVE SUPPLY CHAIN MANAGEMENT
SOLUTIONS!
EDS International has an extensive global network and expertise in Asia, Europe and the Americas. We can find and assess your ideal manufacturer, support your production transition or provide scalable, end-to-end supply chain solutions. Read more about the countries where we provide these solutions below.
Country overview :
Mexico has an export-driven economy. After the North American Free Trade Agreement (NAFTA) took effect on January 1, 1994, tariffs on more than half of exports from Mexico to the US were lifted.
Mexico's global exports increased by 6.7% year-on-year to a record high of USD 41,825.44 million in May 2019. Non-oil exports added 7.7% on the back of higher sales of manufacturing (8%), namely automotive products (16%), industrial machinery & equipment (11.9%), food, alcoholic & beverages (10.7%), and professional & scientific equipment (5.7%).
Specific to the US, there was a rise of 8.5% in non-oil exports, mostly due to stronger auto sales (19.8%). The US is Mexico's biggest trading partner. Currently, the US buys 80% of what Mexico exports compared to just 3% and 1% to Canada and China respectively. Mexico is now a major center for electronics. That includes most of the flat-screen TVs sold in the US. It also makes medical devices and aerospace parts.
International trade, which is exports plus imports, makes up 77% of the country's GDP. That is much higher than Brazil's 23% or even China's 48%. The emphasis on trade makes Mexico's companies globally competitive. Gruma is the world's largest tortilla maker. Bimbo is the largest bread maker since it acquired US baker Sara Lee. Mexico's geographical proximity gives its companies direct access to the US market. They also share a common language with the rest of Latin America.
Mexico grew from the ninth to the seventh largest auto manufacturer in the world between 2010 and 2015 and the fourth largest auto exporter. It recently surpassed Japan as the second-largest auto parts exporter to the US.
When looking at its top 10 exports below, it's also worthwhile to consider its growing expertise in manufacturing, stamping, metal mechanics and furniture assembly.
Top 10 exports: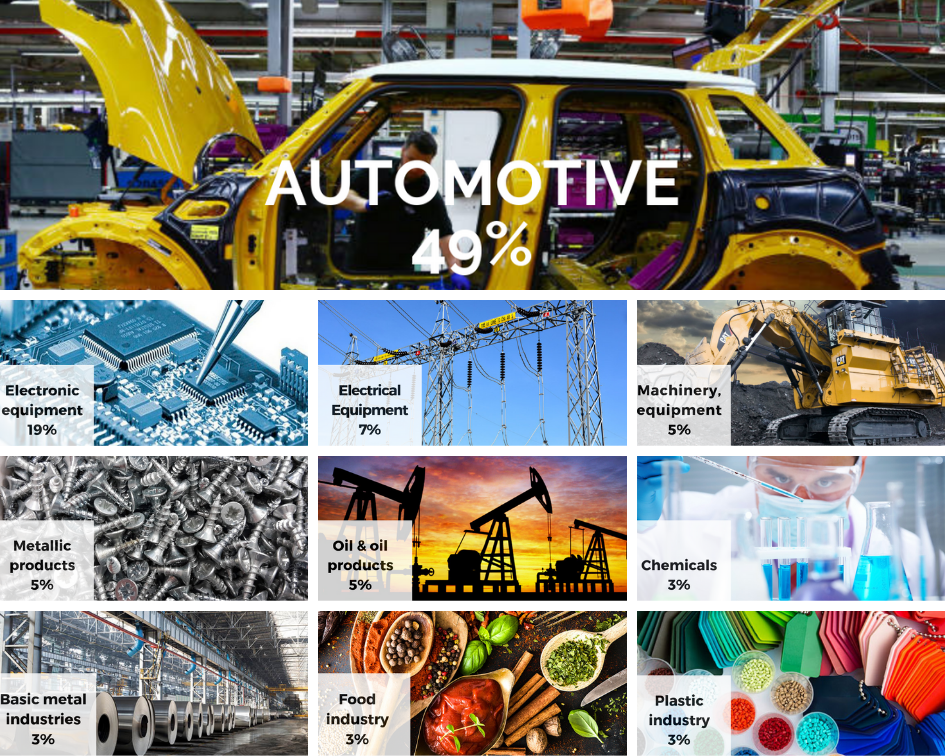 Automotive – 49%
Electronic equipment, components and accessories – 19%
Electrical appliances and electric power generation equipment – 7%
Machinery and equipment – 5%
Metallic products – 5%
Oil and oil products – 5%
Chemicals – 3%
Basic metal industries – 3%
Food industry – 3%
Plastic and rubber industry – 3%
*data from www.inegi.org.mx (National Institute of Statistics and Geography)
Advantages of buying from Mexico:
Mexico and the US have always had close economic and diplomatic ties. One of the reasons is Mexico's geographical location which expedites logistics and keeps shipment costs low.  Some of the biggest advantages are fair labour cost and qualified manpower together with intellectual property laws which are aligned to those in the US. Overlapping time zones are also an obvious benefit.
Since January 1, 2019, the following taxes have been reduced in 43 US-Mexican border towns in Mexico; specifically, in the states of Baja California, Sonora, Chihuahua, Coahuila, Nuevo Leon, and Tamaulipas:
IVA (VAT) reduced from 16% to 8%
ISR (the corporate tax rate) reduced from 30% to 20%
Finally, trade agreements that allow manufacturers in Mexico duty-free access to 60% of all other countries around the world are big reason foreign investors and manufacturers are flocking to Mexico.