LOOKING TO AVOID US-CHINA TARIFFS?
OUR GLOBAL NETWORK PROVIDES VIABLE ALTERNATIVES AND COMPREHENSIVE SUPPLY CHAIN MANAGEMENT
SOLUTIONS!
EDS International has an extensive global network and expertise in Asia, Europe and the Americas. We can find and assess your ideal manufacturer, support your production transition or provide scalable, end-to-end supply chain solutions. Read more about the countries where we provide these solutions below.
Country overview :
Taiwan is one of the top manufacturers of intermediate goods in the world. Intermediate or semi-finished goods form part of other goods meaning they are not directly sold to end consumers. The most recognizable intermediate goods from Taiwan are electronic components, machinery and machine tooling equipment.
The probability is high that the computer you're using, no matter the type or brand, has components of Taiwan origin. The country boasts the world's leading computer chip producer along with major touch screen innovations that have given a big boost to the smartphone sector.
The computer giants Acer and Asus, as well as the phone producer HTC, are Taiwan's largest electronic companies. CyberLink is a well-known Taiwanese software company along with D-Link, Trend Micro and Gigabyte which are supplying USB sticks, routers and hard drives to the international market.
Bicycles are another major item in Taiwan's export list. Giant, Merida and other leading producers of medium- to high-end bicycles and components are also headquartered in Taiwan.
According to data from the International Monetary Fund, Taiwan is almost three times as productive as mainland China. Taiwan ranks among advanced economies such as Germany and Australia in GDP per capita. This means that production costs tend to be a bit higher than China but with an inherent understanding of the requisite quality.
Taiwan's main trading partners are China ($73.9 billion), Hong Kong ($38.4 billion), US ($33.6 billion), Japan ($19.6 billion) and Singapore ($16.2 billion). Contrary to the predicted export slump, shipments from Taiwan increased 0.5% year-on-year to $28.39 billion as of June 2019. This was just shy of the monthly record high of $29.9 billion set in March 2018. Leading the way were information, communication and audio-video products (20.2%) as well as electronic parts (3.3%).
Taiwan's Top 10 Exports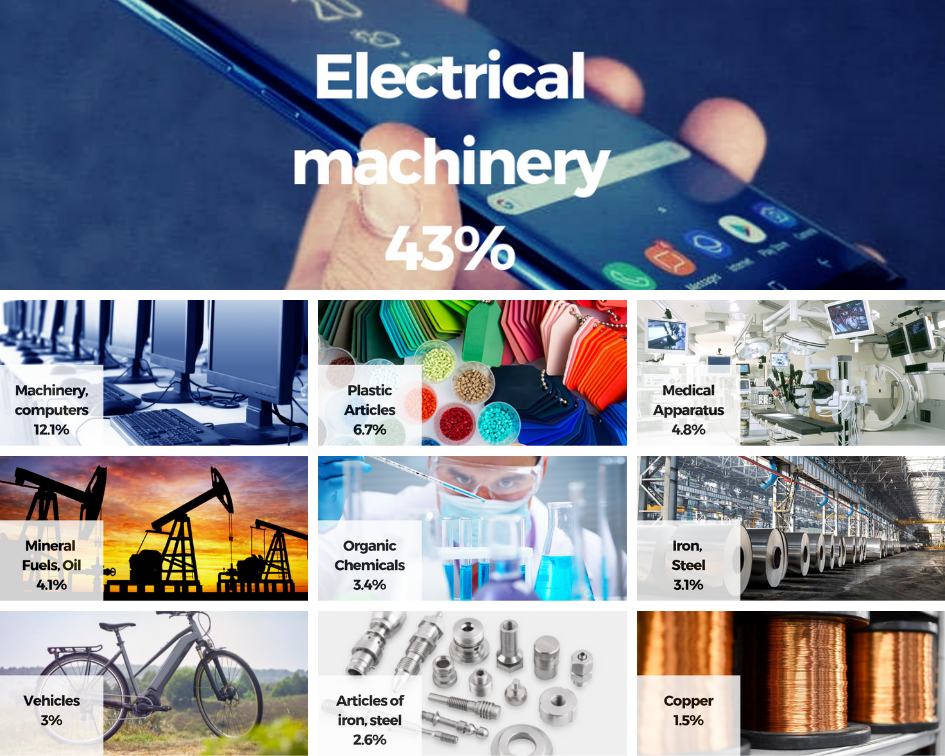 Electrical machinery, equipment – $144.3 billion (43% of total exports)
Machinery including computers – $40.6 billion (12.1%)
Plastics, plastic articles – $22.4 billion (6.7%)
Optical, technical, medical apparatus – $16.1 billion (4.8%)
Mineral fuels including oil – $13.8 billion (4.1%)
Organic chemicals – $11.5 billion (3.4%)
Iron, steel – $10.4 billion (3.1%)
Vehicles – $9.9 billion (3%)
Articles of iron or steel – $8.6 billion (2.6%)
Copper – $5 billion (1.5%)
* data from www.trade.gov.tw (The Bureau of Foreign Trade, Ministery of Economic Affairs)
Advantages of buying from Taiwan:
As an answer to the trade war between the US and China and to encourage Taiwanese companies overseas to return and invest in Taiwan, the country's government offered the three-year (2019-2021) "Action Plan for Welcoming Overseas Taiwanese Businesses to Return to Invest in Taiwan". These measures aim to spur economic growth by driving development of local industries and cultivating the country's future industrial competitiveness.
Zhang Mingbin, Managing Director of Taiwanese Investment Office, also announced that the five largest industrial supply chains (e.g. network communications equipment and bicycles) will form the core of Taiwan's 20-year development with the goal of re-patriating these industries as far as possible. With these goals in mind, Taiwan should go from strength to strength as a provider of high-quality parts and components across a number of industries and sectors. EDS is excited about these developments and continuing to provide our clients bespoke, scalable supply chain solutions.