LOOKING TO AVOID US-CHINA TARIFFS?
OUR GLOBAL NETWORK PROVIDES VIABLE ALTERNATIVES AND COMPREHENSIVE SUPPLY CHAIN MANAGEMENT
SOLUTIONS!
EDS International has an extensive global network and expertise in Asia, Europe and the Americas. We can find and assess your ideal manufacturer, support your production transition or provide scalable, end-to-end supply chain solutions. Read more about the countries where we provide these solutions below.
Country overview :
Representing less than 5 percent of the world's population, the United States of America (US) generate and earn more than 20 percent of the world's total income. The US is the world's largest national economy and leading global trader. As the world's largest importer, US markets are a highly sought-after destination for the sale of goods. However, the US is also a major manufacturing destination. As the world's 2nd (after China) largest exporter, the US is an exceptional source for many production factors such as highly skilled labor, capital, entrepreneurship, and natural resources.
In terms of manufacturing value-added (MVA – the total estimate of net-output of all resident manufacturing activity units obtained by adding up outputs and subtracting intermediate inputs), US exports increased by 7% to $2.4 trillion in 2018. While this figure as a percent of GDP has decreased consistently since 1980, it still represents a promising trend for US-based manufacturing. Fittingly, US employment in manufacturing has also increased in recent years, including the growth of about 152,000 jobs from July 2018 to July 2019. In fact, US-based manufacturing seems to be entering a period of sustained growth, which some are even calling a renaissance. Over the last two years, the United States has created more than 450,000 new manufacturing jobs.
Driving US manufacturing growth are trends in global trade, low natural gas prices, a growing US population, and strength in certain key industries (i.e. machinery, pharmaceuticals, health technology, chemicals, petroleum products, aerospace and equipment for transportation and construction). However, it must be stated that advances in automation and increased investment in robotics have the potential to dampen long-term job growth in the US and around the globe.
While the US is regarded as a service-based economy, with 71% of the labor force engaged in a service-based industry, close to 67% of US exports in 2018 came from manufactured goods. In fact, 2018 US export of goods were the highest on record, at $1.7 trillion according to the US Census Bureau, with most of those exports going to three countries: Canada (17.85%), Mexico (15.69%) and China (8.49%).
Trade statistics from the US Census Bureau indicate that 2018 saw the strength of US exports climb to record highs (seasonally adjusted) in several categories of manufactured goods. Both exports of petroleum ($172.4 billion) and non-petroleum exports ($1.5 trillion) were the highest on record. Additionally, industrial supplies and materials ($538.9 billion); capital goods ($562.0 billion); consumer goods ($205.9 billion); and other goods ($65.4 billion) were the highest on record.
When looking at the US top 10 exports below, it's also worthwhile to consider its growing expertise in manufacturing, stamping, metal fabrications, prototyping, casting and furniture assembly.
Top 10 exports :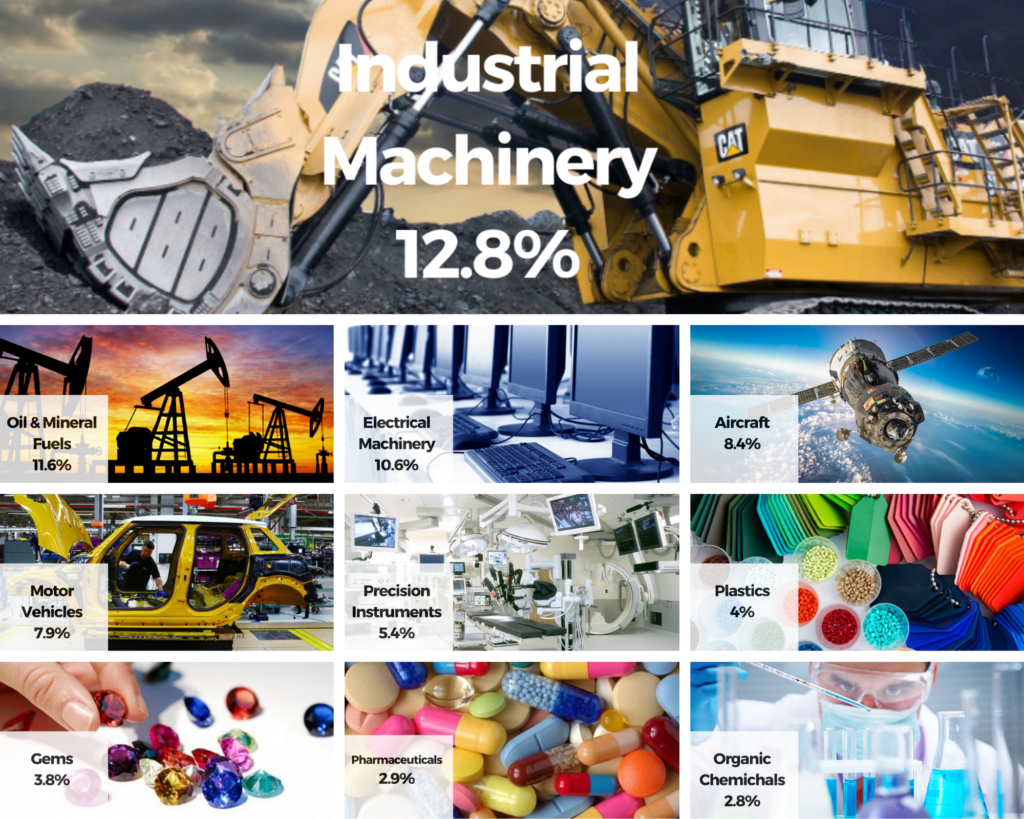 Industrial Machinery – $213.4 billion (12.8%)
Oil & Mineral Fuels – $192.7 billion (11.6%)
Electrical Machinery – $176.3 billion (10.6%)
Aircraft – $139.4 billion (8.4%)
Motor Vehicles & Parts – $130.7 billion (7.9%)
Precision Instruments – $89.6 billion (5.4%)
Plastics – $66.6 billion (4%)
Precious Stones & Metals – $ 63.1 billion (3.8%)
Pharmaceuticals – $48.3 billion (2.9%)
Organic Chemicals – $46.2 billion (2.8%)
*data from UN Comtrade (2018) retrieved from https://comtrade.un.org/
Advantages of buying from USA :
As the largest recipient of foreign direct investment (FDI) in the world, the US provides foreign investors a stable and welcoming market. The US economic and legal system provides a predictable and transparent business experience with low taxes, outstanding infrastructure, and access to the world's most lucrative consumer market. In fact, FDI in the US is estimated at $4.34 trillion, supporting roughly 7.4 million US jobs.
Exports from the US tend to be high and moderate complexity products, supported by a robust and highly educated labor force. The US has a proven track record of providing foreign investors with access to industry experts and production capabilities connected with a variety of industries such as advanced manufacturing ($1.1 trillion), aerospace ($21.9 billion), energy ($172.8 billion), automotive ($114.6 billion), life science ($648.3 billion), high-tech ($2 trillion), and logistics/supply chain ($1.5 billion). Additionally, the US has strong protection for intellectual property, which means lower risk for foreign investors doing business in the US and ease of dispute resolution.
Another reason to manufacture in the US is that the local companies can save time and costs on logistics and shipping thereby shortening lead times and garnering more satisfied customers. Made in the USA means quality for most people and can also be a very valuable marketing tool for your brand.