LOOKING TO AVOID US-CHINA TARIFFS?
OUR GLOBAL NETWORK PROVIDES VIABLE ALTERNATIVES AND COMPREHENSIVE SUPPLY CHAIN MANAGEMENT
SOLUTIONS!
EDS International has an extensive global network and expertise in Asia, Europe and the Americas. We can find and assess your ideal manufacturer, support your production transition or provide scalable, end-to-end supply chain solutions. Read more about the countries where we provide these solutions below.
Country overview :
Since 1986, Vietnam, a densely populated country in Southeast Asia, has been shifting from a centralized highly agrarian economy to an industrial and market-oriented economy. This has helped to lift incomes in the industrial parts of the country.
Electronic and electrical products are the country's top exports. Vietnam has a strong competitive advantage in the market for electrical products, including smartphones, integrated circuits and micro assemblies, TV, radio or radar device parts.
Samsung is the largest Vietnamese exporter and has aided the country in achieving a trade surplus in 2018 for the first time in many years. The EU, China, the US, Korea, and Saudi Arabia are the main export destinations their phones.
The main footwear producers (e.g. Adidas, Puma, & Nike) are all based in Vietnam while having factories elsewhere. Currently, Vietnam is the fourth-largest manufacturer of footwear in the world. Only China, India, and Brazil produce more shoes. With the Comprehensive and Progressive Agreement for Trans-Pacific Partnership (previously known as the TPP), this market will continue to grow.
Vietnam is also ranked number eight in the world in terms of furniture exports as reported by the Italian Centre for Industrial Studies. Large, global retailers send their designs and specifications of furniture to Vietnamese manufacturers, which they then build and export.
The main export partners of Vietnam are the US as 19 % of total exports. China (16 %), Japan (8%), South Korea (7%), Hong Kong (4%), and the Netherlands (3%) round out the top 6.
In 2018 Vietnams exports totaled $244.7 billion. During the seven years between 2012 and 2017 exports from Vietnam increased at an annualized rate of 13.5%, from $116 billion to $220 billion. This remarkable rise has been driven by smartphones, garments, and electronic home appliances. Monthly exports from Vietnam have increased from a low of $0.54 billion in February 1997 to an all-time an all-time high of $23 billion in August 2018. With a continuation of the trade war between the US & China and companies around the world continuing to diversify their supplier base, it is likely that monthly exports are continuing to break records.
Top 10 exports (2018) :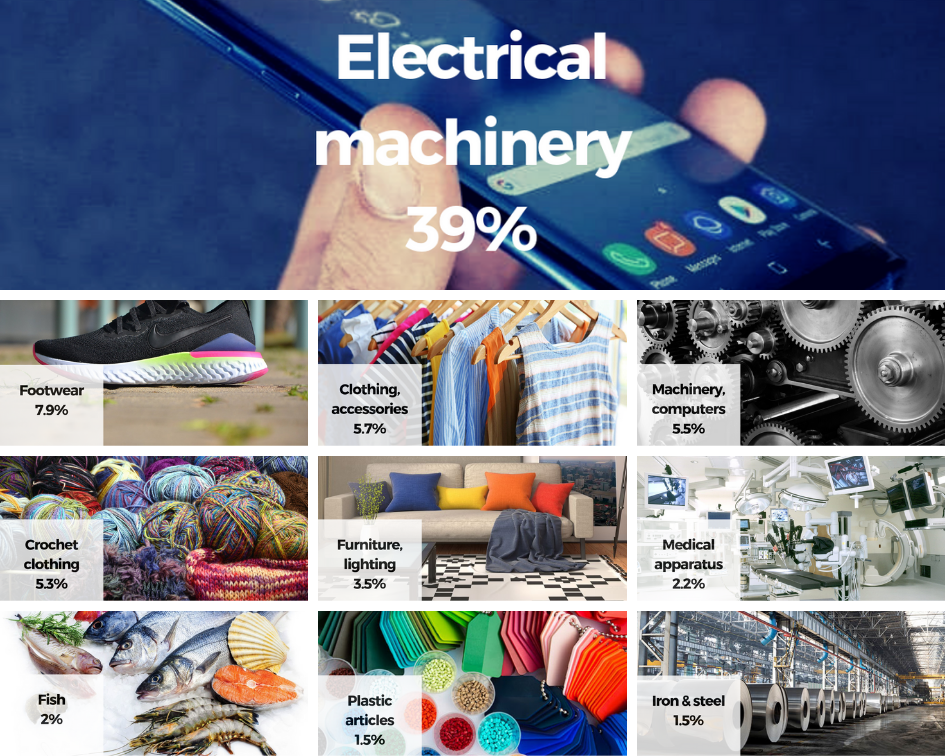 Electrical machinery, equipment including mobile phones 

–

 $107.8 billion (39%)

Footwear 

–

 $21.8 billion (7.9%)

Clothing, accessories (not knit or crochet) 

–

 $15.7 billion (5.7%)

Machinery including computers 

–

 $15.1 billion (5.5%)

Knit or crochet clothing, accessories 

–

 $14.6 billion (5.3%)

Furniture, bedding, lighting, signs, prefab buildings 

–

$9.7 billion (3.5%)

Optical, technical, medical apparatus 

–

 $6.2 billion (2.2%)

Fish 

–

 $5.5 billion (2%)

Plastics, plastic articles 

–

 $4.1 billion (1.5%)

Iron and steel –

 $4.1 billion (1.5%)
*data from www.customs.gov.vn (Ministry of Finance of Vietnam, General Department of Customs)
Advantages of buying from Vietnam :
Vietnam has wages substantially lower than in China, a young population, stable political environment, low inflation, decent infrastructure and strong manufacturing sector. Those factors as well as its proximity to China makes Vietnam a preferred destination for those looking to diversify their supplier base and manufacturing. The country already boasts thousands of factories that are owned by Chinese, Japanese, Korean and Taiwanese companies. This has resulted in an influx of know-how and development of a wide variety of production capabilities that can be tapped into by foreign buyers. The country is currently a star among emerging markets as a result of trade liberalization (various free trade agreements have been signed over the past 20 years*), with deregulation resulting in a lower cost of doing business as well as substantial investments in human capital and infrastructure.
*Vietnam joined the WTO in January 2007 and concluded several free trade agreements in 2015-16, including the EU-Vietnam Free Trade Agreement (not yet ratified), the Korean Free Trade Agreement, and the Eurasian Economic Union Free Trade Agreement.