LOOKING TO AVOID US-CHINA TARIFFS?
OUR GLOBAL NETWORK PROVIDES VIABLE ALTERNATIVES AND COMPREHENSIVE SUPPLY CHAIN MANAGEMENT
SOLUTIONS!
EDS International has an extensive global network and expertise in Asia, Europe and the Americas. We can find and assess your ideal manufacturer, support your production transition or provide scalable, end-to-end supply chain solutions. Read more about the countries where we provide these solutions below.
Country overview :
Located on the Indochinese Peninsula, Thailand is second-largest economy in ASEAN following Indonesia and eighth-largest economy in Asia. Although known globally as one of the world's most popular travel destinations, the Thai Kingdom is also a foreign-trade-friendly, upper-middle-income economy, with a year-on-year GDP increase of 4.1% in 2018.
Thailand's development is largely driven by exports ($249.8 billion last year). The country's main external market is China ($30.2 billion), followed by the US ($28.1 billion), Japan ($24.9 billion), Vietnam ($13 billion), and Hong Kong ($12.5 billion). Exports helped Thailand recovery more quickly than other countries after the financial crises that destabilized Asia in 1997 and 1998.
Given the export indicators mentioned above and a population of around 69.4 million people, Thailand (about $3,600) is quite far ahead of China ($1,746), Vietnam ($2,544), and India ($250) in the value of exports per capita.
Thailand has a competitive advantage in the automotive industry which is demonstrated by a positive balance of trade in cars and trucks. Parts and motorcycles also trade at a surplus albeit not as large as cars and trucks.
Being an export-oriented country, Thailand relies massively on trade alliances with other countries. Top 10 products in the bi-lateral trade relationship with the USA are rubber (rubber tires, plastic lids, rubber pipes, etc.), machinery (video recording equipment, radio receivers, integrated circuits, video displays), prepared food (processed fruits, nuts, animal food), seafood (processed fish and processed crustacean), agricultural products (vegetable products such as rice), jewellery (jewellery and gems), computers, telephones, oil products, apparel (textiles). Thailand is also the 20th largest export destination for the US, and trade between the two countries has been on the increase in recent years. In addition to its agreements with the US, Thailand is also a member of the World Trade Organization (WTO) and the Cairns Group of agricultural exporters.
Thailand's top 10 exports (2018):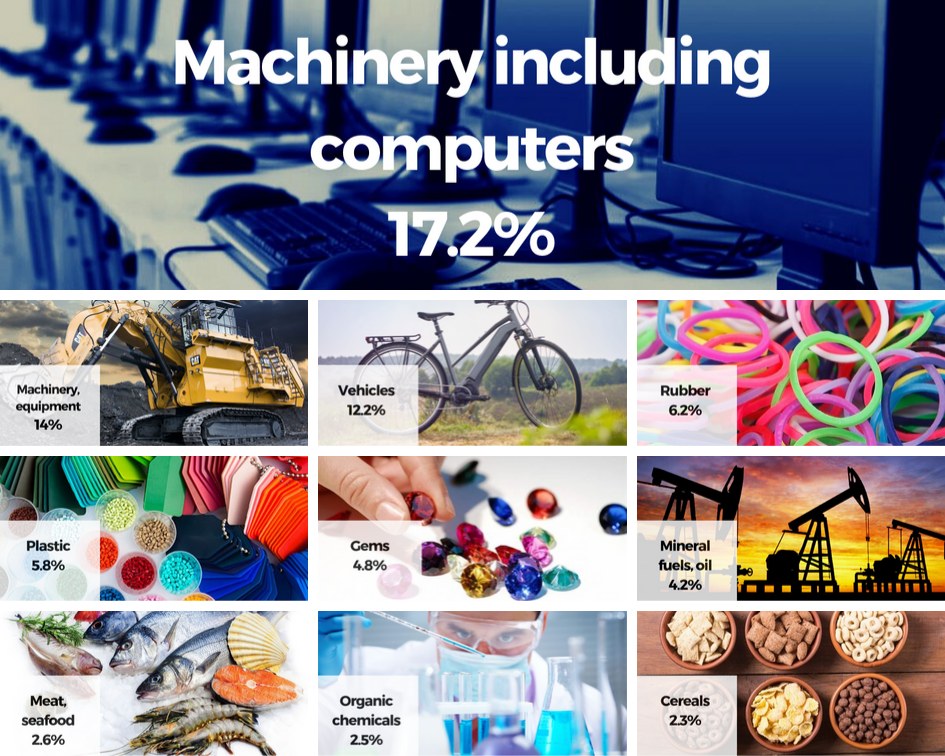 Machinery including computers: $42.9 billion (17.2%)
Electrical machinery, equipment: $35 billion (14%)
Vehicles: $30.4 billion (12.2%)
Rubber, rubber articles: $15.5 billion (6.2%)
Plastics, plastic articles: $14.5 billion (5.8%)
Gems, precious metals: $11.9 billion (4.8%)
Mineral fuels including oil: $10.6 billion (4.2%)
Processed meat/seafood: $6.6 billion (2.6%)
Organic chemicals: $6.1 billion (2.5%)
Cereals: $5.7 billion (2.3%)
*data from www.tradereport.moc.go.th (Information Technology and Communication Center Ministry of Commerce)
Advantages of buying from Thailand:
Experts estimate that the Thai economy will grow 3.3% to 3.8% in 2019. The key prerequisites for the improvement are an increase in government expenditures and public investment in core infrastructure projects. One other prerequisite has already been filled with more business and investment friendly constituents winning key seats in the March 2019 elections.
In order to boost infrastructure, Thailand has issued the Eastern Economic Corridor (EEC) Act. The act will assist the ECC develop integrated infrastructure and utilities connecting air, land and sea. Increased investment is planned in high-speed railway connections along with port and airport improvement and expansion projects. The EEC's current plan includes 30 existing and new industrial zones. There are three more provinces awaiting investments of $55 billion — Chachoengsao, Chon Buri, and Rayong. Electric cars, hi-tech electronics, agriculture and biotechnology, food, robotics, aviation, biofuels, and digital technologies are the industries being promoted within the EEC.
Thailand is not a low-cost production base. That said, it is seen as a viable sourcing and manufacturing option by many companies due to its reliable business environment, well-developed logistics infrastructure and vast natural resources. The government of Thailand is also taking active steps towards improving the country's trading position. Whether by boosting investment in technical equipment, allocating Special Economic Zones along its borders or promoting cluster structures (geographic concentration of interconnected businesses, suppliers, and associated institutions in a particular industry), the government wants to be seen as a serious global player.
Coupled with its natural resources and easy connectivity with other ASEAN countries (including Cambodia, Laos, Myanmar, and Vietnam), Thailand can be an attractive alternative to China for certain product categories. For further reading on Thailand, see Thailand Sourcing.